Ground Breaking IOT Services & Seamless
Development Solutions
Internet of Things Development
IOT or Internet of Things basically refers to the network of interconnected physical devices and mechanical objects that are embedded with network connectivity, sensors and software which enables them to collect and exchange data. Internet of Things solutions are creating opportunities for more direct integration of physical devices with computing systems, allowing objects to be controlled remotely across an existing network infrastructure. These devices require IOT mobile apps and integration to connect and communicate with other devices, which essentially acts as a data interface. By greatly reducing human intervention and gathering data from diverse locations, Internet of Things services is resulting in improved efficiency and accuracy.
Typically, IOT's growing network of internet enabled devices cover various protocols, domains and applications. Expected to usher automation in nearly all fields, Internet of Things offers advanced connectivity of devices, systems and services that go beyond M2M (machine to machine) communications. Simply put, internet of things solutions are helping build smart devices that are connected to the internet and share data.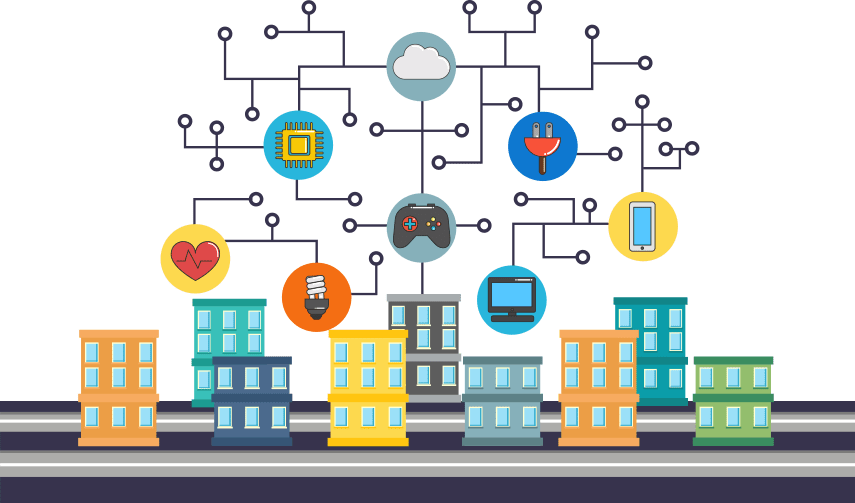 IoT Development

Services We Offer
Full Cycle IoT Development
Streamline your idea from initiation to completion with InvoZone's IoT software development services digitizing your business. Solving your problems around connected vehicles, smart facilities, personal devices, industrial services and much more.
Manage your device data with native IoT mobile and web applications powered by a seamless user experience. InvoZone has extensive experience in providing enterprise-class IoT solutions, developing web and mobile apps with secure device connectivity.
Achieve new business objectives, tune your existing platforms or build custom connected software with our IoT engineering services. Efficiently manage heterogeneous devices by optimized custom IoT systems.
Maximize the operational efficiency of your current systems by integrating industrial Internet of Things (IoT). InvoZone's IoT engineers have expertise in implementing IoT for industrial automation. Move to AI-powered automation today.
Unlock the full potential of IoT and AI technology by leveraging data analytics to control your home systems intelligently. We build intelligent, reliable and compatible solutions for your home and personality using AI, Machine Learning and IoT.
Industrial IoT Consulting
Effectively capitalize on IoT solutions by turning data into actionable insights and building new revenue streams with InvoZone's vetted IoT experts. Seek upright IoT consultation into trustworthy market insights.
Our IoT App
Development Strategy
We help you optimize all the steps of the IoT application development process to make sure that your time and investment is utilized efficiently.
Internet of Things Development

Tools and Technologies